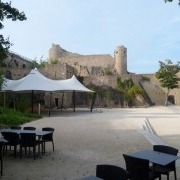 The Hohlandsbourg Castle boasts a prestigious and unusual setting, totally suited to organise your meetings, general assemblies, gala evenings, incentive programs … the site has everything to make your events a success: large spaces to welcome people, on site catering, Wi-Fi, team-building workshops and tailor-made events, guided tours, shop, parking areas nearby … and the exceptional surrounding views will definitely contribute to relaxing your teams!
For your various events, we propose two attractive and fully-renovated rooms (stone walls, wooden beams, wooden floors) which fit perfectly into this historic site.
The room capacity varies depending on the areas and event-type:
- event room from 10 to 280 people depending on the room layout
- teaching room up to 20 people
You also have at your disposition an open-air, covered theatre for up to 250 people.
Material available: DMX-controlled video-projector, screen, paperboard
Upon request: audio-video material

The site proposes traditional dishes: the brasserie can welcome between 80-90 people. There is the possibility of organizing your lunch or dinner cocktails in the Castle courtyard for up to 500 people.
We'll help you organise your days and evening depending on your needs by proposing a tailor-made offer. The Castle can be made private just for you during the days and times it is closed to the public.
We propose numerous additional services to make your Castle visit more enjoyable: coffee breaks, guided tour, medieval games, visit of museum and temporary exhibition.
Rental prices: from 275 € to 2000 € depending on the areas used.
team-building ACTIVITIES:
The Hohlandsbourg Castle is the ideal place for numerous sports and fun activities supervised by professional teams:
- medieval tournament organized like the Olympic games: bow and arrow, coat of mail competitions, dexterity exercises …
- trekking on the Hohlandsberg mountain, geo-coaching
- treasure hunt
- climbing, zip-line...
- blind wine-tasting...
- theme evenings: medieval banquet at midday or in the evening
We remain at your disposition to help you organize your unique group-event!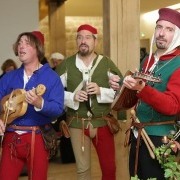 For more information and to prepare your event, please contact:
Corinne GUIBERT
Tel. +33 (0)3.89.30.10.26 - +33 (0)6.80.15.40.88
This email address is being protected from spambots. You need JavaScript enabled to view it.